Castellon Airport Guide
The new €150M Castellon Airport opened on 25th March 2011, but at the moment no airlines are operating from there and there are no flights on offer. It is now waiting for permits to allow planes to land with flights expected to start operating late summer 2011.
Castellon Airport is about 75km north of Valencia located between Vilanova and Benlloch. The newly completed CV-13 link road means that it is only a 15 minute drive from Alcossebre. It has a large two storey passenger terminal and was commissioned to provide more flights into the region.
Murcia San Javier Airport (owned by the Spanish Airports Authority Aena) is about 320km to the south of Castellon and doubles as a military base. It has just opened a second runway and is predicting an 82% increase in passenger traffic over the summer months. But at just over 1500m in length it is more likely to be used by the military as it is a little too short to be used by aircraft flying to western and northern Europe.
There is also another airport being built in Corvera which is near to Murcia which is due to be completed next year. With its close proximity to Valencia Airport which has plenty of spare capacity and two more airports in the region will Castellon Airport ever get off the ground?
You can find out more information at the website www.aerocas.com
By Linda Craik Google+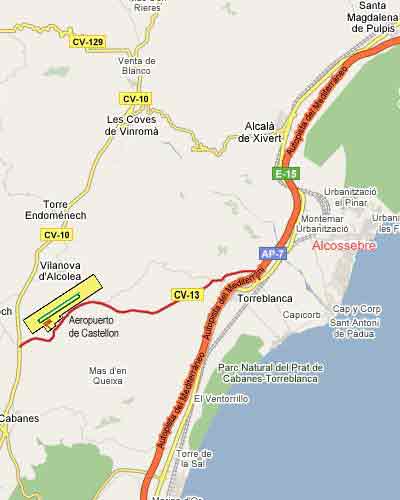 Nearest Airports
---